City honors cousins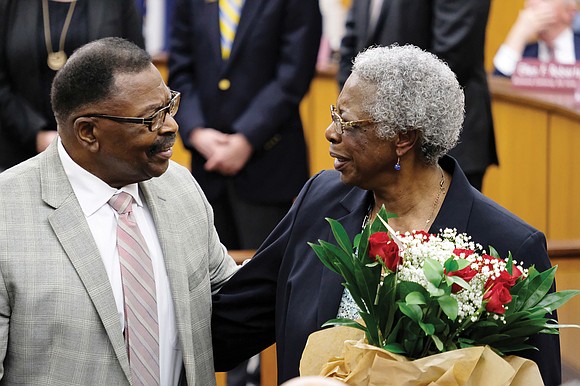 Annie Reese spent five decades helping Richmond children cross the street safely as they traveled to and from school.
Her cousin, Joseph "Joe" Taylor, has spent four decades building an award-winning athletic career as a football coach.
Both received special recognition Monday from Richmond City Council for their accomplishments.
With both honorees surrounded by family and well-wishers, Ms. Reese was presented with a bouquet of roses during the ceremony.
She began serving as a school crossing guard in 1969 and "has earned a solid reputation for dedication, diligence and duty" as a member of the Richmond Police Department crossing guard unit, the council citation reads. She is best known for helping children from her post outside James H. Blackwell Elementary School in South Side.
Mr. Taylor, who currently serves as athletic director at Virginia Union University, was saluted for his upcoming induction in December into the National Football Foundation's College Football Hall of Fame for his stellar coaching career.
One of the nation's winningest coaches, Mr. Taylor, who started coaching at the college level in 1978, amassed a record of 232-97-4 as head football coach at Howard University, VUU, Hampton and Florida A&M universities. Among other achievements, he led Hampton to four black college national football championships.