Stephanie A. Lynch wins 5th District City Council race
George Copeland Jr. | 11/8/2019, 6 a.m.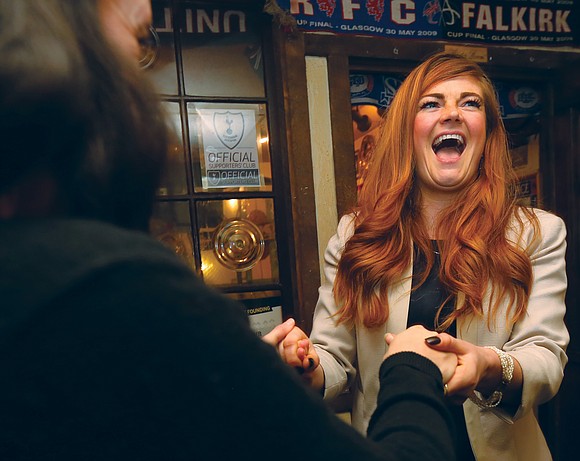 Stephanie A. Lynch is the new 5th District representative on Richmond City Council.
The 32-year-old Woodland Heights resident beat six other candidates in Tuesday night's special election to win the seat to be vacated on Nov. 30 by Councilman Parker C. Agelasto.
It is the first time a woman and South Side resident has represented the 5th District on the council, a sign of change for Richmond politics in more ways than one.
Ms. Lynch's election may signal a major blockade of the $1.5 billion Coliseum replacement and Downtown redevelopment deal proposed by Navy Hill Development Corp. The controversial proposal requires the approval of seven city council members to move forward.
Ms. Lynch, along with most of the other candidates vying for the 5th District seat, voiced strong opposition to the plan during the campaign.
She cited a lack of credible numbers, little benefit for the city and little support among 5th District residents as the reasons for her opposition. She pointed to her resolute rejection of the Navy Hill plan as a key part of her win, and has floated the idea of a citizen advisory group that would offer their thoughts on future development plans in the city.
Mayor Levar M. Stoney, who backs the plan proposed and led by Dominion Energy CEO Thomas F. Farrell II, seemed undaunted. He told the Free Press on Tuesday night that Ms. Lynch's history in social work shows a desire to do the best for children and families, and that he believes she will come to see the benefits of the Navy Hill deal.
"There's elections, and there's politics," Mayor Stoney said.
With just more than 7,100 votes cast in the special election, Ms. Lynch brought in about 27.56 percent of the vote, topping her nearest competitors, Mamie L. Taylor and Thaddeus M. "Thad" Williamson, who each received around 15 percent of the vote.
Speaking to the Free Press on Tuesday night after her victory, Ms. Lynch said she takes the responsibility ahead of her "extremely seriously" and described herself as the employee of the 20,000 residents that make up the 5th District.
"I'm working for them," Ms. Lynch said. "And I'm working for those who did not vote for me, who may not be able to vote, who may not have a seat at the table." Ms. Lynch will serve the remainder of Mr. Agelasto's term, which ends in December 2020. She already has said she intends to run then for a full, four-year term.
She said once in office, she will complete the "progress left to be made" for city services, including its public schools, public transportation, infrastructure and more. Ms. Lynch has called for more state funding for Richmond Public Schools, alongside greater transparency and cooperation from Richmond city government, and has put her support behind green development and gun reform.
The 5th District contest managed to produce controversy on Election Day. Ms. Lynch, along with four other candidates, Ms. Taylor, Henry W. "Chuck" Richardson, the Rev. Robin Mines, Nicholas Da Silva and Jer'Mykeal McCoy, issued a joint statement denouncing what they called misleading sample ballots handed out at polls by Mr. Williamson's campaign.
The sample ballots, paid for and authorized by Mr. Williamson's campaign, were similar to those produced by the Richmond City Democratic Committee, they charged, and made it seem like Mr. Williamson was endorsed by the committee, which had not made an endorsement in the race.
Mr. Williamson's campaign manager responded that Mr. Williamson wasn't involved in producing the sample ballot and that they were printed using a template that is legal and has been used by other candidates.