Cameron Champ's rising star leads to loyal following, merchandise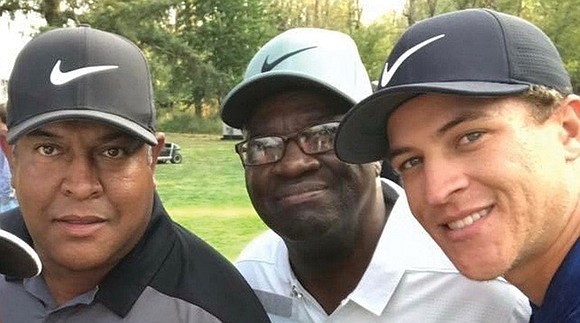 Cameron Champ is going places his grandfather, the late Mack Champ, was never given the chance to.
The sky seems to be the limit for Cameron Champ, 25, who contended last weekend for the PGA Championship in San Francisco.
Life was much more challenging for his grandfather, who was born in 1941 in Columbus, Texas. The late Mr. Champ, who died in October 2019 at age 78, caddied as a youngster at private clubs, but was never allowed to play because of racism. It wasn't until he was in the U.S. Army and serving in England in 1961 that he finally got a chance to swat golf balls on a real course.
Times have changed, for the better, and now Cameron Champ is among the hottest new athletes on the PGA tour.
Last weekend, Champ, a native of Sacramento, Calif., and alumnus of Texas A&M University, created quite a stir at the 102nd PGA Tournament. He trailed by just one stroke after three rounds and even shared the lead during the final 18 holes.
Champ eventually finished eighth, six strokes behind leader Collin Morikawa. The impressive run in the world spotlight earned Champ a check for $252,123.
It couldn't have happened without the man Champ called "Pops."
Mack Champ was most responsible for Cameron Champ's emergence as a golfing star and, more importantly, as an outstanding young man.
"A role model, mentor and the greatest grandfather I could have ever asked for," Champ wrote on Instagram following his grandfather's death. "You taught me lessons of life I could have never learned from anyone else."
Champ's full name is Cameron Mackray Champ. Mackray "Mack" Champ is his grandfather.
Champ is one of only seven African-Americans to ever win an event on the mainstream PGA tour.
The son of Jeff Champ, who is African-American, and Lisa Champ, who is Caucasian, prevailed in the Sanderson Farms Championships in Jackson, Miss., in 2018 and the Safeway Open in Napa, Calif., in 2019. Champ packs a considerable wallop on the tee. He is second on the PGA tour in driving distance at 321.3 yards per hit. Bryson DeChambeau leads at 324.4.
Champ, who is sponsored by Ping, Nike and Srixon, is developing a passionate following. Nike Golf even has manufactured a polo shirt called "Grandpa Mack" with a silhouette of Mack Champ swinging a club.

There is athleticism in the family. Jeff Champ played two seasons of baseball in the Baltimore Orioles' chain. Cameron dabbled in the sport, but golf always came first for the youngster. His grandfather would pick him up after school each day and would take him to various courses around Sacramento to develop his game. Soon, Mack Champ was transporting Cameron
Champ to tournaments. Champ quickly emerged as one of the top junior players in California and eventually became a standout at NCAA golf powerhouse Texas A&M. Champ uses his position of prominence to promote causes he feels strongly about. Earlier this year, during Black History Month, he wore one black and one white shoe at the Waste Management Phoenix Open.
On Sundays, he wears blue to draw attention to autism. Blue is the color of Autism Speaks. Champ's sister, Madison, is autistic and plays golf competitively.
And then there is the ongoing tribute to his beloved grandfather.
Inscribed on Cameron Champ's irons is one of his grandfather's favorite quotes: "It's not where you're from; it's where you're going."
Minus the obstacles his grandfather faced, there is no doubt Cameron Champ has a clear path to golf's royalty.