Jason Nelson of John Marshall High hoops hones in on college pick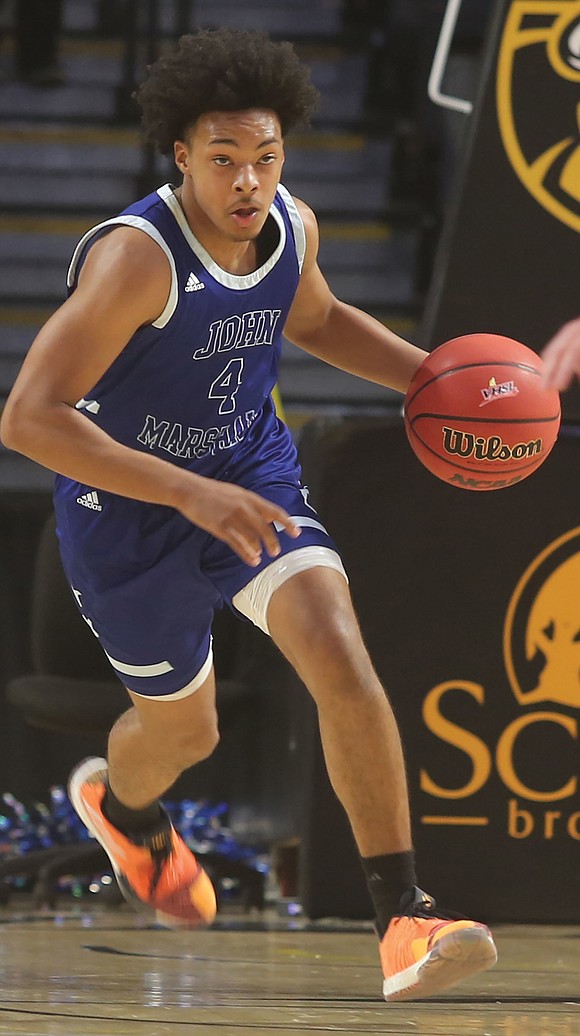 And the envelope please ...
John Marshall High School basketball standout Jason Nelson has narrowed his list of college options to two.
The University of Richmond and Vanderbilt University are the finalists being considered by Nelson, the State 2A Player of the Year.
Word of his pick could be coming soon.
"By July, I would think," said the Justices' Coach Ty White of Nelson's upcoming decision. "Jason can't go wrong with either."
A 6-foot rising senior, Nelson was a catalyst in JM's drive to the State 2A title last winter. The Justices won their last 19 games to finish 24-2.
UR is coming off a 24-7 season and runner-up finish to the University of Dayton in the Atlantic 10 Conference. The Spiders' point guard Jacob Gilyard will be a senior in 2020-21.
Vanderbilt needs help. The Southeastern Conference school was 11-21 overall last season under Coach Jerry Stackhouse, a former NBA great.
Just as heavily recruited among the Justices as Nelson is 6-foot-10 rising senior Roosevelt Wheeler, who joined Nelson on the 2A All-State team.
In naming favorites for "Rose's" talents, Coach White mentioned North Carolina State, Louisville, Memphis, Louisiana State University and Wake Forest.
Asked about the chances for hometown possibility Virginia Commonwealth University, Coach White said, "VCU is 100 percent in it."
-
John Marshall High School played in probably the last basketball game held in Virginia in 2019-20 due to the COVID-19 pandemic.
The Justices defeated Gate City High School on March 12 at VCU's Siegel Center to clinch the state 2A title. The remaining state playoff games were canceled as soon as JM left the court. Also no college games were played after that.
JM had just two seniors on the championship team and will be heavily favored to win the title again next winter.
"We shouldn't be bad, at least on paper," Coach White said.
The Justices, with Nelson and Wheeler among the senior returnees, will be aiming for a third state title in four years. And speaking of headliners, don't forget rising sophomore Dennis Parker.
"He could wind up being the best of all," Coach White said of the 6-foot-6 standout who started as a freshman.
JM also won the state crown under Coach White in 2014 and 2018.
With three state coaching titles, Coach White is drawing closer to the local record of four state coaching crowns held by the late Coach Pierce Callaham. Coach Callaham won state titles with Maggie L. Walker High School in 1971 and 1976, and with the Marshall-Walker complex in 1982 and 1983.
Since the merger of the Virginia High School League and the Virginia Interscholastic Association in the late 1960s, the only two-time state coaching champs have been Coach Vance Harmon at Henrico High School in 2013 and 2015, Coach George Lancaster at Highland Springs High School in 2003 and 2007 and Coach Carl Peal at Petersburg High School in 1973 and 1974.
-
From JM's most recent squad, senior guard Elijah Seward appears headed to Newport News Apprentice School, according to Coach White.
A huge perk in suiting up with the Shipbuilders is a salary for apprentice work at Newport News Shipbuilding & Dry Dock Co., a division of Huntington Ingalls Industries.
The Apprentice basketball roster includes not only the player's height, year in school and position, but also his trade, such as rigger, machinist, pipefitter, electrician, etc.
-
Meanwhile, Coach White said his usually bustling offseason program has been "decimated" by the coronavirus pandemic. Gyms have been closed and no tournaments have been held.
Many of JM's players are and have been linked to the powerhouse Team Loaded AAU travel program that Coach White directs.
There is still no action in sight for the spring and summer exposure events.
"Maybe in August, September, October," Coach White speculated. "But it changes every day."