School Board expands day care, program, works to get ready for reopening
The Richmond School Board voted 7-0 Monday night to increase the number of students attending city learning centers by 125 beginning Friday, April 2.
That will allow more students to participate in in-person learning at day care centers operating at Blackwell, Holton and Miles Jones elementary schools, Martin Luther King Jr. Middle School and Huguenot High School.
Each of the five centers serves special and high-needs students in kindergarten through eighth grade, with virtual learning classes in the morning and activities in the afternoon.
Currently, a total of 300 students are attending the in-person program at the schools. The board previously set a maximum of 500 students in the program, or 100 per school. The board's action raises that to 625.
On Monday, April 12, however, the centers will be open for a total of 800 students, including general education students, to receive in-person instruction.
Two School Board members, Kenya Gibson, 3rd District, and Nicole Jones, 9th District, were absent from Monday's meeting.
Richmond Public Schools is continuing efforts to get all school buildings ready for reopening for in-person learning this fall. A $54 million federal CARES Act award is helping pay for installation of bipolar ionization air quality systems, repair of all HVAC systems to upgrade air quality and installation of touchless soap dispensers and sanitizing stations in hallways and restrooms in schools across the district.
RPS also is in the process of completing RPS' Bathroom Blitz project – upgrading and replacing sinks, replacing stalls and installing hands-free papers towel dispensers. The administration has budgeted for an additional 27 custodians for schools to meet industry standards.
Damon Jiggetts, executive director of the Peter Paul Development Center that runs the learning center at Martin Luther King Jr. Middle School, said the program has been free of COVID-19 cases since the program started in the fall.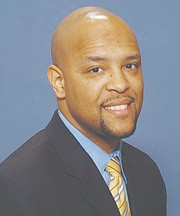 "Students in the program are performing and doing well," Mr. Jiggetts told the Free Press. "We are doing community outreach to satisfy potential additional numbers approved by the school district."
About 60 students in second through eighth grades are enrolled, he said. Students bring their Chromebooks provided by RPS and have a safe space to log on to virtual classes as 16 Peter Paul staffers assist and ensure the students stay on task.
The program also has afternoon enrichment activities, including arts and crafts, mindfulness exercises, yoga and STEM activities.
The program adheres to COVID-19 protocols, Mr. Jiggetts explained, with one child per 6-foot desk. Students and staff wear masks, temperatures are checked before anyone enters the building or boards a bus and disinfecting wipes and sanitizers are used widely.
Peter Paul Development Center's buses pick children up to attend the program at the middle school.
Mr. Jiggetts said transportation and access are ongoing issues for families in the area as they can be obstacles preventing youngsters from at- tending the in-school day care programs.
To help reduce transportation issues, Mr. Jiggetts started Red Wagon Youth Transportation Services in early March to help meet broader community needs.
"I have more business than I can handle," he was happy to admit.
At Huguenot High School in South Side, the YMCA of Greater Richmond runs the day care program in a designated area of the school.
Betsy Peters, the YMCA's senior vice president of youth development, said 75 students attend and are helped by YMCA staff and counselors who are not certified teachers but ensure the students sign on to their computers and are engaged with RPS teacher-led virtual learning.

In the afternoon, the YMCA's enrichment teachers lead activities in art, STEM and sports.
"We hope this fills the gap for children of what they are missing by not being in school each day," Ms. Peters told the Free Press. "We hope this brings back some normalcy to each child."
The program space is cleaned on a daily basis according to the Centers for Disease Control and Prevention guidelines, she said. Bathrooms are cleaned three to four times daily and a clean- ing service comes on site daily to clean the classrooms.
Students and staff are required to wear masks and daily temperature checks are taken, she said. Regular hand washing and sanitizing is done and social distancing is adhered to as desks are spread out for classes and meal time.
Parents also are required to fill out a form telling whether they have been exposed to COVID-19 or have any symptoms.