VSU heads into CIAA play with 0-2 record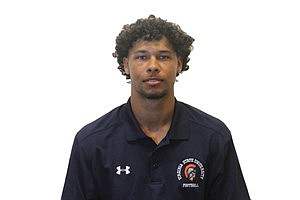 Virginia State University has shown it can drive nearly the length of the field for a touchdown.
Now, with an extra week to prepare, Coach Reggie Barlow's football Trojans need to work on ways to perform similar feats more often.
Despite a 10-7 loss last Saturday at Ohio Dominican University in Columbus, VSU mounted one of the longest drives in Trojans lore.
Taking over on its own 2-yard line late in the third quarter, VSU traveled 98 yards on 17 plays, eating up 7:14 on the clock. It overcame two, 5-yard penalties along the way.
Kimo Clarke accounted for the final two yards and VSU's lone touchdown. Nick Woolfolk, from Richmond's Thomas Jefferson High School, added the extra point.
That's something for the Trojans to build on before traveling to Fayetteville State University Saturday, Sept. 25, to commence CIAA play.
VSU is 0-2 (with only two touchdowns) after a 48-7 home loss to Lenoir-Rhyne University on Sept. 4 and the Ohio Dominican University setback.
Jordan Davis quarterbacked the memorable 98-yard drive after taking over in the second half for injured starter Mark Wright.
Davis was 9-for-17 passing for 112 yards. Before suffering a lower body injury, Wright was 10-for-14 for 136 yards.
Overall, VSU had 317 yards to Ohio Dominican's 306 yards, and 20 first downs to the home team's 19.
Davis hails from C.D. Hylton High School in Woodbridge and was the top backup to three-year starter Cordelral Cook in 2019. VSU opted out of the 2020 season because of COVID-19.
Wright, from Carrollton, Ga., played previously at Ellsworth Community College in Iowa and Hutchinson Community College in Kansas.
Tylin Oden, a 6-foot-4 junior from Spring Hill, Tenn., had five receptions for 55 yards. Clarke, a redshirt freshman from Ocala, Fla., has both VSU touch- downs this season and leads the team with 104 yards on 14 carries, good for a 6.7 yard average.
Defensively, Javon Frazier had two sacks for VSU and Kymon Pope, from nearby Dinwiddie, had two passes broken up. Coincidentally, Pope's older brother, K'Vaughan, is a senior linebacker at Ohio State University and played across town in Columbus the same day against the University of Oregon.
VSU's Sept. 25 opponent, Fayetteville State, is the favorite to win the CIAA Southern Division title. The Broncos are 1-1, with a win over Elizabeth City State University on Sept. 4 and a loss last Saturday to Wingate University.