VSU Trojans hoping for a win against Fayetteville State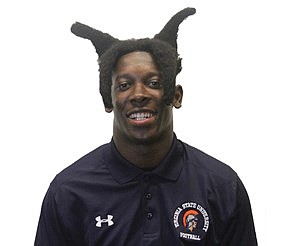 Virginia State University's football team is hoping a bus ride down Interstate 95 will lead to its first football victory of the season.
Coach Reggie Barlow's Trojans, after hav- ing last week off, will play the Fayetteville State University Broncos at 7 p.m. Saturday, Sept. 25, at Jeralds Stadium in Fayetteville.
It will be the first CIAA game for both teams.
VSU is 0-2 following losses to Lenoir- Rhyne and Ohio Dominican universities. Fayetteville, also idle last week, is 1-1, with a win over Elizabeth City State University and a loss to Wingate University of North Carolina.
Kimo Clark, a freshman from Florida, has 94 yards rushing for the Trojans and both the team's touchdowns. He is averaging 6.7 yards per carry.
Mark Wright and Jordan Davis have alternated at quarterback for the Trojans, trying to replace departed three-year starter Cordelral Cook.
VSU and Fayetteville State last met on Nov. 11, 2017, with the Trojans routing the Broncos 42-19 in the CIAA champion- ship game in Salem.
At that time, Cook passed for two touchdowns and Trenton Cannon ran for 186 yards and three touchdowns, including a 79-yarder.
Under Coach Richard Hayes, FSU won the CIAA Southern Division in 2017, 2018 and 2019 and is the division favorite again this season. The Broncos are 19-7 in CIAA action under Coach Hayes.
VSU is 22-6 in CIAA games under Coach Barlow.