VSU looking to bounce back from Fayetteville State loss
10/2/2015, 9:04 p.m.
Virginia State University is hopeful of better weather and better health as it tries to rebound from its first CIAA loss in three seasons.
After winning 17 straight conference games, the injury-plagued Trojans lost 33-20 on Sept. 26 in the rain and wind to visiting Fayetteville State University.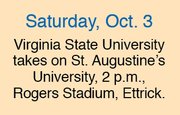 It marked the Trojans first CIAA loss since bowing to Virginia Union University in the 2012 season finale.
VSU plans to launch a new winning streak Saturday against struggling CIAA rival St. Augustine's University.
The Trojans are 2-2 overall and 0-1 in the CIAA under first-year Coach Byron Thweatt. St. Augustine's has been outscored 166-14 in a 0-4 start.
Coach Thweatt was missing at least six injured starters last Saturday against Fayetteville, including quarterback Tarian Ayres and tailback Kavon Bellamy.
Walter Harold, filling in for Ayres, passed for 194 yards and two touchdowns, while Trenton Cannon, taking a more prominent role in Bellamy's absence, rushed for 147 yards and a touchdown.
Harold's preferred target was Jaivon Smallwood, who made eight receptions for 121 yards and a touchdown.
The Trojans are hoping Ayres and Bellamy will return for the game against St. Augustine's.
Injuries took more of a toll on defense, as Fayetteville State's Derek Bryant passed for 430 yards and four touchdowns against a patchwork VSU secondary.
The leading VSU tackler, with eight stops, was running back-turned-defensive back Lamont Britt. The Norfolk native was the team's second-leading rusher in 2013.
Britt sat out in 2014 because of a suspension for his involvement — he pleaded guilty to simple assault — in a 2013 dust-up with Winston-Salem State University prior to the scheduled CIAA championship.
It was a happy homecoming to Ettrick for Fayetteville State Coach Lawrence Kershaw, a member of the VSU Class of 1995. Coach Kershaw was later a VSU assistant coach under Lou Anderson.
VSU's loss to Fayetteville State is more a speed bump than a train wreck. VSU has yet to play a CIAA Northern Division opponent.
A team's record within the division is the first criteria in determining the division champion and who will go to the CIAA title game. The CIAA champion receives an automatic berth in the NCAA Division II playoffs.