Local screenwriter hopes next stop will be Academy Awards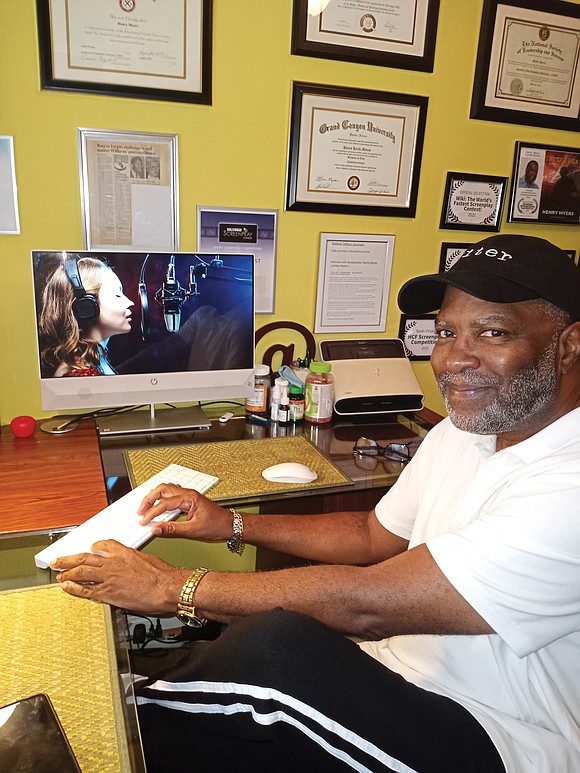 Henry K. Myers is realizing the dream of every amateur screenwriter – to see his words turned into a film.
The 64-year-old accountant and adjunct English professor at two area community colleges is now awaiting the release of a cinemagraphic version of "Ju- bilee Nation," a political thriller he crafted last year on his home computer.
The producer is WILDsound Fes- tival, which conducts screenwriting, music and photography contests and film festivals, and selected his script out of the hundreds that were submit- ted, he said.
"They've told me it is to be com- pleted this month," said Mr. Myers, adding that WILDsound plans to take it to other film festivals.
The finished video will feature stills and cartoons strung together as illustrations of the action while actors read the lines, he said.
As Mr. Myers describes it, his script is "about a political conspiracy that takes place in the 1960s in an all-Black nation" that was created from several Southern states in the aftermath of the Civil War.
The Henrico County resident said he wanted to imagine what it would be like to live in a place in the United States where Black people were dominant and white people were the minority and occupying the lowest positions.
"It is what the world could look like if reimagined through an alternate historical lens," he said.
He called it a response to the ques- tion of what would have happened if oppression and racial discrimination after the Civil War were erased.
He said the hero is a Black journalist, who with assistance from his white servant, "uncovers and foils a plot by white conspirators to overthrow the government." The plot includes the exposure of the flaws of the reporter and his helper.
Mr. Myers said he also created a lead character "I had not seen on the screen before," an urbane and wealthy Black man who has all the privileges but is still making his own way. In his script, the lead character is a descendant of the founders of the Black nation who "is still very human and a man of his times," he said.
Mr. Myers said he was turned on to scriptwriting in taking a university course that offered an introduction to a range of writing, including for films. He found he had a knack for it.
His previous short film scripts, "Night Heat" and "Naked to the Night," have won awards in online screenwriting competitions. The Richmond International Film Festival named "Night Heat" a semifinalist in its 2019 script competition.
It's pretty heady for a former high school dropout who was changed by the military.
At age 17, Mr. Myers said he sought to change his life by joining the Air Force, where he became an airplane mechanic. He also got his G.E.D. while in the military and said he went on to became a trainer of new mechanics and got into finances.
Though only a sergeant, he was so respected for his work that the Air Force promoted him to a job previously reserved only for officers, director of resource management for the Community College of the Air Force, he said.
After 13 years, he left the military, returned to the Richmond area and became an independent bookkeeper and accountant, helping businesses and individuals keep track of their money and taxes.
After more 30 years in the field, Mr. Myers sought to open a new chapter. While retaining some of his accounting clients, the Grand Canyon University graduate started taking writing courses. He said he also learned a great deal about scripts and movies in taking a position with the Virginia Film Office. He later landed adjunct positions at John Tyler and Reynolds community colleges.
And he turned his hand to scriptwriting. He said he is always bubbling with ideas for the next project. Like all film writers, he's hoping one day that "I'll be at the Academy Awards accepting an Oscar for best screenplay."
Until then, he plans to spend as much time as he can turning his next concept into the stuff that films are made of.