Fox students return to in-person classes at First Baptist Church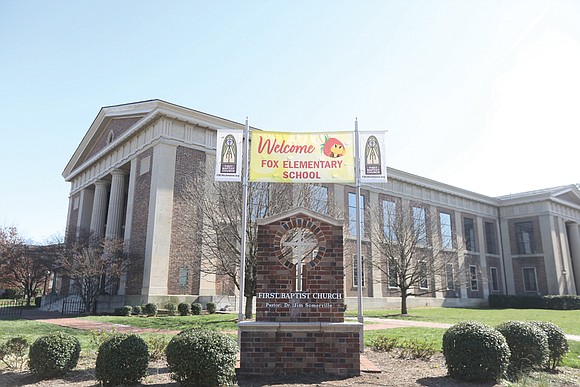 As the sun rose at 7:15 a.m. Monday, a parade of happy and enthusiastic parents with their elementary-age children made the trek to school at Richmond's First Baptist Church on Monument Avenue.
This was the first day of in-person classes for Fox Elementary School students who have been learning virtually since a destructive fire on Feb. 11 left the Hanover Avenue school building uninhabitable.
Even under their protective face masks, students' smiles were evident. Their eagerness to see classmates and teachers was clearly apparent.
Sarah Tunner and her two daughters, Katherine, a kindergartener, and Caroline, a fourth-grader, were among the brigade of happy arrivals at the church on this sunny, but brisk first day back in class.
"We are thrilled and so thankful to First Baptist Church for hosting the entire school until our children can return to a Richmond Public School," Ms. Tunner told the Free Press.
Both daughters felt really excited about returning to in-person learning.
"I only like in-person school because you have to do a lot more in class," Caroline said. "I missed my teacher and friends the most."
Another parent, who declined to give her name, said she is all for the rebuilding and renovation of the 111-year-old building on its same site, which the School Board approved during a special meeting March 18. She said she wants to keep the build- ing's façade while adding a "fabulous" modern interior.
"It means a lot for Fox to be in the same footprint where it is and back in the neighborhood that supports it so much," she said, noting that her family chose to live in the 2nd District so her children could walk to Fox.
School Board member Mariah L. White, who represents the 2nd District, stood Monday at the entrance to First Baptist Church and welcomed students and parents — some by name.
She said it was the first step to normal- izing student learning after the fire.
"First Baptist is a great place for our students and staff to be located," Ms. White said.
An added enhancement to this week's transition: Teachers and staff were being provided with breakfast and snacks each day, Ms. White said. The goodies were donated by Ms. White, 2nd District Councilwoman Katherine Jordan, The Fan District Association, the William Fox PTA, the Carver Area Civic Improvement League and the Richmond Flying Squirrels.