VSU Trojans trounce Livingstone, 37-7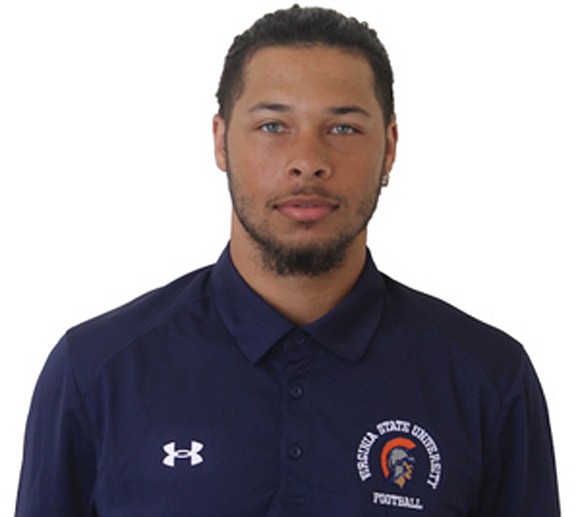 There are many dual-threat (run-pass) quarterbacks in college football, but few triple threats.
Jordan Davis offers that added dimension (punting) to the upward-bound Virginia State University Trojans.
In Coach Henry Frazier's first season in Ettrick, VSU is 3-1 with three straight, one- sided victories. Led by Davis' passing, running and, yes, punting, too, the Trojans trounced Livingstone, 37-7, in Salisbury, for their third straight win Sept 24.
Next up is a 6 p.m. kickoff Oct. 1 against Shaw at Rogers Stadium. Shaw is 2-2 but coming off consecutive CIAA wins over Bowie State and Elizabeth City.
Playing on Livingstone's blue turf field (aka "Smurf Turf,") Davis hit 18 off 30 passes for 251 yards and a touchdown. He rushed for 50 yards on 10 totes with two more TDS.
And when forced to punt, Davis' foot accounted for three kicks worth 111 yards, including a 61-yarder.
Since the arrival of special's play, and special team's kickers, almost never is the QB used to punt these days. Davis, who alternated as VSU's signal caller a year ago, did not start the season as the No. 1 QB on the depth chart
and did not play in the opening loss at Lenoir-Rhyne. He hails from Hylton High in Woodbridge and is the son of retired military George Davis and German mother Sandy.
The 5-foot-11, 210-pound junior was surrounded by numerous other stars in the win at Livingstone.
Darius Hagans ran for 116 yards on 23 tries, with a TD. Hagans has now passed the 100-yard mark in three straight games and trails only Virginia Union's Jada Byers in CIAA rushing stats.
Working with Davis, Roy Jackson and Tylique Ray each snagged four pass receptions for 80 yards each.
On defense, freshman Zacchaeus Laing from Ashburn had five tackles (including one for loss) and added an interception.
VSU and Shaw last played in 2019, with the Trojans winning, 35-0.