VSU Trojans aim to corral Fayetteville State Broncos
Fred Jeter | 9/25/2015, 6:38 a.m.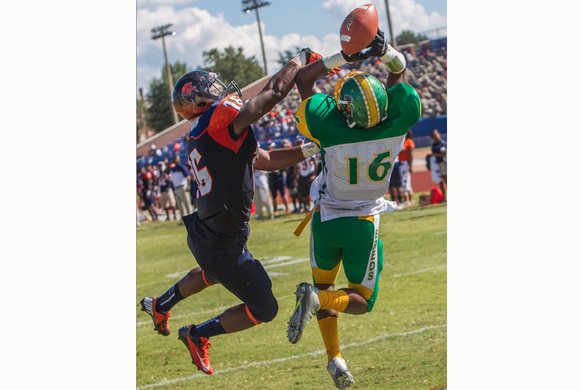 If you went for a hot dog and soft drink during punt plays, you'd have missed the day's most exciting action.
Virginia State University's two touchdowns came on punts in its 14-7 victory over Kentucky State University last Saturday at Rogers Stadium.
Led by its special teams (kicking and kick return units), the Trojans improved to 2-1 under first year Coach Byron Thweatt.
The Trojans will try to extend the winning streak this week when CIAA foe Fayetteville State University arrives Saturday at Rogers Stadium in Ettrick for a noon kickoff.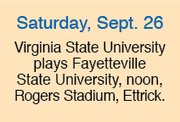 The game will be televised live by Sinclair Broadcast Group and American Sports Network.
In downing KSU on Military Appreciation Day, Jaivon Smallwood returned a punt for a 44-yard touchdown.
Trevon Byron added the second six points by blocking a punt by the Thorobreds and pouncing on the free pigskin in the end zone.
"A football team is like a spear and special teams are the tip of the spear — the dagger," said Coach Thweatt. "That's how you finish games."
VSU punting was crisper, with Matt Hillquist launching five boots for a 42-yard average.
With leading rusher Kavon Bellamy sitting out with a slight injury, Trenton Cannon rushed for 85 yards and freshman Stephen Mines added 30 yards on nine totes. Bellamy is expected back for the game against Fayetteville State.
Mines was Division 5 All-State last year for state champion L.C. Bird High School in Chesterfield County. He is the son of Stuart Mines, a former gridiron standout at George Wythe High School in Richmond and the University of Virginia.
VSU is undefeated during the past three seasons against other CIAA teams. Under former Coach Latrell Scott, the Trojans were slow out of the blocks, but then turned it on.
The Trojans started the 2013 season 1-2, but finished with eight straight wins.
In the 2014 season, VSU began 0-2 before reeling off 10 straight victories en route to the CIAA title and an NCAA Division II second-round playoff game.
Fayetteville State University comes to Ettrick with a 0-3 record. The Broncos lost 35-14 last year to VSU.
Early returns reveal the CIAA Southern Division to be the weak sister. Fayetteville State is part of the Southern Division. The Southern Division is a combined 2-14 three weeks into the season, while the Northern Division is 12-5. VSU and Virginia Union University are in the CIAA's Northern Division.
Perennial juggernaut Winston-Salem University, a 2012 NCAA Division II finalist, has started 0-3 with losses to University of North Carolina at Pembroke and Valdosta State and Tuskegee universities.