GRTC driver raises safety concerns after stabbing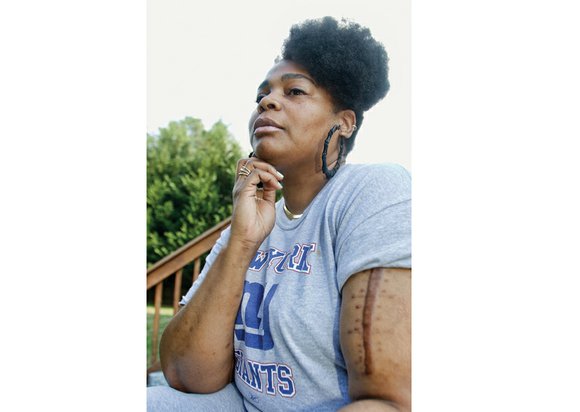 GRTC bus drivers have been assaulted by angry and upset passengers at least 16 times during the past five years.
They have reported being spit on, punched and hit with water bottles and book bags, according to GRTC records. One driver last year even had a knife briefly held to his throat.
S.F. Braxton knows all too well how vulnerable drivers can be as they pilot city buses, even though such attacks are extremely rare given the tens of thousands of people who ride the bus and the number of trips buses make.
Nearly a year ago, Ms. Braxton was savagely stabbed in the left arm by a passenger in one of the most serious incidents to date.
"He got angry," Ms. Braxton said. "He appeared lost and confused. He didn't know where he was going, and he lashed out at me."

While her wound has healed, every day she has to look at the ugly 8-inch scar left by her assailant and she tries to cope with the constant fear she lives with.
A driver for 15 years who once racked up awards for safety, she still deals with the physical damage from the knife attack.
She has been out of work since the attack on April 14, 2015. Her arm, she said, likely will never be same. While the blade fortunately missed her artery, numerous nerves were severed, making it hard for her move or lift her arm. She said the muscles on her left arm are too weak to help her right arm turn the steering wheel of a bus.
While GRTC denies it, Ms. Braxton believes the company has done too little to protect drivers or train them to deal with disruptive and potentially violent passengers.
Frank Tunstall III, who represents GRTC drivers as president and business agent for Local #1220 of the Amalgamated Transit Union, agrees.
"We've talked to the company about better addressing safety," Mr. Tunstall said. "Our drivers are given some minimum training, but it is not sufficient to deal" with the kind of danger that can suddenly erupt.
GRTC spokeswoman Carrie Rose Pace said the transit company has safety protocols in place and teaches drivers to manage passengers who present a threat or are disruptive.
Among other things, she said drivers are taught to remain seated, to maintain a calm and composed presence and to call for assistance if needed. She said the protocols are incorporated into the training of new drivers and reinforced in annual refresher courses.
Mr. Tunstall said the company has talked about the possibility of installing shields to reduce driver vulnerability. Ms. Pace confirmed the company has explored options, but based on driver feedback, GRTC is not pursuing installation of such barriers.

Even after the stabbing, neither the union nor the drivers requested shields, Ms. Pace said.
Despite the risks, drivers are not allowed to carry any kind of weapon for protection. "It's a firing offense," Mr. Tunstall said, citing a company policy that requires the immediate dismissal of any driver found to be carrying any "instrument or weapon designed or intended to do bodily harm."