'Funville' opens Friday the 13th
Fred Jeter | 4/13/2018, 9:43 a.m.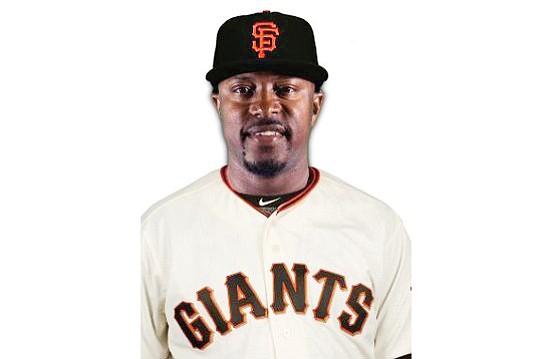 The Richmond Flying Squirrels have an antidote for any hints of Friday the 13th bad luck that might haunt the home opener.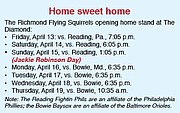 "The Crime Dog (Fred McGriff) will be carrying a rabbit's foot," insists Squirrels General Manager Todd "Parney" Parnell. "I like our chances."
Friday the 13th or not, a sellout is expected when Richmond hosts the Reading, Pa. Fightin Phils at 7:05 p.m. at The Diamond, with former big league all-star McGriff delivering the ceremonial first ball.
Under first-year manager Willie Harris, the Squirrels' first African-American skipper, the Squirrels began the season with a seven-game road swing through Trenton, N.J., and Hartford, Conn.
Hot and cold: The Squirrels, a Double A affiliate of the San Francisco Giants, were a lukewarm 63-77 on the field in 2017 but piping hot at the box office, attracting 6,054 fans per opening.
"Funn": You don't have to know Aaron Judge from Judge Judy, or Babe Ruth from Ruth Ginsburg to have a great time.
The Flying Squirrels are set to open their ninth baseball season with just two promises — an ever-expanding concession stand menu and plenty of family "Funn." In fact, the Eastern League franchise has gone so far as to rename their aging ballpark, albeit unofficially, as "Funnville."
Festivities start Friday night with five-time All-Star McGriff (493 career homers). The evening will end with dueling fireworks displays. It will be the first of 24 postgame fireworks shows, including fireworks every Saturday night.
There also will be 34 merchandise giveaways this season, including five bobble-head giveaways, and an ongoing tribute to the movie "Sandlot," starting Monday, April 16, with "Bambino" baseball giveaway.
And none of that has anything to do with nightly live music, kid-friendly contests between innings and the lovable antics of the Flying Squirrels' mascots Nutzy and Nutasha.
Waiting in line: Eventually San Francisco catcher Buster Posey, 31, will retire or move on. Richmond catcher Aramis Garcia hopes to be his successor. The 25-year-old Floridian is a former second round draftee.  
Oh brother: The Squirrels' third baseman is Jonah Arenado, younger brother of Colorado Rockies perennial MVP candidate, third sacker Nolan Arenado.
Not same guy: Don't confuse Richmond shortstop Ryan Howard, 23, with former Philadelphia Phillies Hall of Fame candidate slugger Ryan Howard (382 homers, 2004 to 2016).
Cuban connection: Cuban-born outfielder Daniel Carbonell signed a four-year contract worth $3.175 million in 2014. Despite a mouth-watering combination of speed and power, he has languished between AA and High A.
Journey continues: Versatile infielder Ali Castillo, 29, has been a pro since 2008. In 867 minor league games, the Venezuelan has 3,261 plate appearances and a .278 lifetime average. In 2017 alone, Castillo suited up for Richmond, San Jose and Sacramento in the Giants' chain, and with Zulia in Venezuela.            
History lesson: The Flying Squirrels are Richmond's fourth pro franchise, following the Braves (1966 to 2008), the Vees — short for Virginians — (1956 to 1964) and the Colts (1894 to 1953).
The Braves were Atlanta's AAA affiliate at Parker Field and, starting in 1985, The Diamond.
The Vees were the Yankees' AAA farm club. In 1955, the Vees' first baseman, Butch McCord, became Richmond's first African-American player.
The Colts were the property of the Philadelphia A's 1935-36 and the New York Giants 1937-1938 and 1944 to 1950. The Colts played at Mooers Field and Tate Field on Mayo Island until the park was destroyed by fire in 1944.
In April 1934, New York Yankees legend Lou Gehrig hit a mammoth home run in an exhibition game against the Colts that famously splashed into the James River.