VUU banking on talent of Tabyus Taylor this fall
Fred Jeter | 4/20/2018, 12:12 a.m.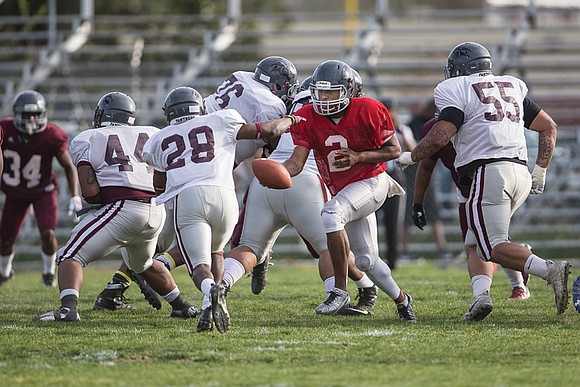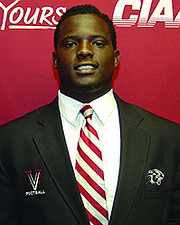 Virginia Union University football fans were treated last season to what amounted to a teaser of what Tabyus Taylor can do with a football under his arm.
This year, they can look forward to the full package.
"We want to be RBU (Running Back University). Tabyus makes us go," said first-year Coach Alvin Parker following VUU's spring intrasquad game last Saturday at Hovey Field.
A 6-foot, 248-pound ball carrier, Taylor rambled for more than 100 yards and scored the decisive touchdown on a 32-yard scamper in Offense's 35-34 win over Defense.
Coach Parker goes so far as to compare Taylor with VUU's all-time rusher Andre Braxton, a former teammate of Coach Parker. Braxton played for the Panthers from 1997 to 2000. He gained 5,008 career yards, scored 63 rushing touchdowns, rushed for 1,660 yards and 28 rushing touchdowns in 2000 alone. He was inducted into the VUU Athletic Hall of Fame in 2017.
"The difference is Andre would make two tacklers miss. Tabyus will run over two tacklers," Coach Parker said.
Taylor wears No. 9, the same number Coach Parker wore as a Panthers ball carrier. Like Taylor, Coach Parker also was a running back.
"I told Tabyus he needed to make it (No. 9) look good," Coach Parker said.
From Hopewell High School, where he was a standout quarterback, Taylor was Conference 26 and Region 3A East Player of the Year in 2014. As a senior, he rambled for 2,066 yards and 25 touchdowns overland, passed for another 1,037 yards and nine touchdowns and inked a National Letter of Intent with Virginia Tech.
Then life got in the way. Academic and legal issues forced detours to Atlanta Sports Academy, a prep school, and Lackawanna College in Pennsylvania, although Taylor did not play.
While he has sophomore eligibility at VUU, Taylor will turn 23 on Nov. 24.
Last season as a college newcomer, Taylor opened with 123 yards in the Panthers' game against Long Island University-Post. He followed that up against Newberry College with 109 yards, featuring a 93-yard touchdown run.
It is a rare occasion when a man weighing nearly 250 pounds covers the distance of the gridiron.
However, Taylor suffered a high ankle sprain against Newberry and played little until the ninth game of the Panthers' season against Elizabeth City State University.
Although not completely healed, Taylor rolled for 82 yards on nine carries against ECSU. He then added 56 yards on 14 tries in the season finale at Virginia State University.
Other spring game notables:
Quarterbacks Darius Taylor, the incumbent starter, and Eric Caldwell both drew Coach Parker's praise for "learning a new offense." Caldwell threw two touchdown passes.
Defensive standouts were Ray Lewis III with an interception, Mikal Dobbins with two sacks and 2017 CIAA Defensive Player of the Year Sterling Hammond, who made his physical presence felt all over the field, as usual.
"Sterling has an impact whether he makes the play or not," Coach Parker said. "Quarterbacks change plays to keep from going his way."
In a unique scoring system last Saturday, points were awarded to Defense for sacks, interceptions, three-and-outs, etc.
Coach Parker also applauded the team's discipline. In more than 100 snaps, only four penalties were flagged by a team of CIAA officials. VUU had been among the nation's most penalized squads in recent years.
VUU opens at Hovey Field on Saturday, Sept. 1, against Seton Hill University of Pennsylvania.