Panthers roar to 34-28 overtime win in season opener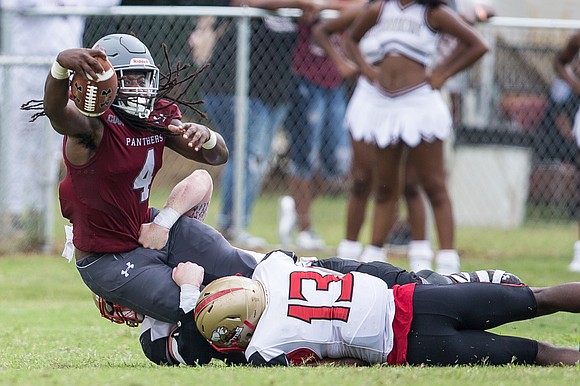 Looking for win
Saturday, Sept. 8
Virginia Union University plays Carson-Newman University of Tennessee
at Hovey Field.
Kickoff: 1 p.m.
Two Taylors added up to one exciting Virginia Union University football victory as the Alvin Parker coaching era got underway.
Tailback Tabyus Taylor and quarterback Darius Taylor, while unrelated biologically, share a common trait of athleticism on the gridiron.
The two provided much of the offensive fireworks in the Panthers' 34-28 overtime victory last Saturday over Seton Hill University of Pennsylvania before some 5,000 fans at Hovey Field.   
"Tabyus' numbers speak for themselves," Coach Parker said. "He toted it for us today. That's the mode we're looking for. If he can do that week after week, we'll be a hard team to beat."
Tabyus Taylor, a 250-pound former All-State performer at Hopewell High School, rumbled for 175 yards on 25 carries with two touchdowns, including the game winner in overtime. Taylor, who is as big as many lineman, failed to gain yards on only one of his 25 carries.
"Coach told me I'd be getting a lot of reps, and that it was up to me what I did with them," Tabyus Taylor said.
"The sky's the limit for this team."
The bruising ball carrier also caught three passes for another 15 yards and a touchdown catch from Darius Taylor that tied the game near the end of regulation.
In his second season as VUU quarterback, Darius Taylor threw for 181 yards and two touchdowns, including a 69-yard highlight reel aerial to Olu Izegwire to open the scoring.
"Darius managed the game well. He moved the team in a good way," Coach Parker said.
"One of the things we ask of Darius is to avoid turnovers. Today, he had no interceptions."
Defensively, sophomore defensive back Tovias Parker had two interceptions, the second in overtime, along with six tackles.
Parker, who is no relation to the coach, hails from Miami Jackson High School in Florida, where he was recruited by the likes of the University of Miami.
The Panthers' overtime victory was VUU's first since 1996. Coincidentally, Coach Parker was a running back in that game in which VUU beat Fayetteville State University 18-12 in overtime.
VUU's home stand continues Saturday, Sept. 8, with Carson-Newman University of Jefferson City, Tenn., coming to Hovey Field for a 1 p.m. kickoff.
The Eagles, a member of the NCAA Division II South Atlantic Conference, lost 19-9 on Aug. 30 at juggernaut University of West Florida in Pensacola. Carson-Newman was 8-3 last season.
Known for its ground and pound style, Carson-Newman rushed for 330 yards in Florida while attempting just three passes.
Among Carson-Newman's noted alumni is Sanders Shiver, a former Pro Bowl linebacker for the Super Bowl champion Baltimore Colts and a former Bowie State University coach.