Washington training camp is a business flop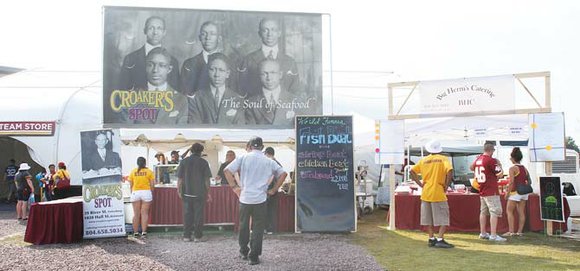 If success means attracting people, then the Washington NFL franchise's training camp is a winner.
An estimated 165,000 apparently visited the Richmond facility on Leigh Street and watched football practices before the camp closed Monday.

But if success is measured by economic activity, the camp does not appear to make the cut.

For the second year, most of those visitors kept their wallets closed when it came to spending money with food vendors and other city businesses.
Instead, most merchants in and around the camp spent a lot of time twiddling their thumbs — instead of gaining any boost in sales.
The city businesses surveyed by the Free Press reported little if any spike in sales from the nearly 165,000 visitors that City Hall estimates attended the camp behind the Science Museum of Virginia.
The merchants' view that the facility failed to deliver an economic boost contrasts with city claims that the facility is a business winner.
The city reported only a slight increase in taxable sales last year, and based on the reports from merchants, is likely to do so again this year.
One of the big problems for merchants was the revamped timetable for practices that was in place this year.
Food vendors, restaurants and fast food establishments complained that the twice daily practices were held in the early morning and late afternoon, giving fans — those that did not bring their own packed coolers — little incentive to buy lunch.
Practice began about 8:30 most mornings and ended well before the lunch hour. The players did not return to training until after 4 p.m. and the workouts ended before the dinner hour.
Even the arrival of quarterback Tom Brady and the New England Patriots for three days of practices with the D.C. team sparked little additional spending.
"The four-hours (between sessions) killed us," said Herman Baskerville, owner of Big Herm's Kitchen. "It's been slow most days."
Neverett Eggleston Jr., owner of Croaker's Spot, agreed. "I've been doing this for 64 years, and this was the worst I've seen," said Mr. Eggleston, whose booth sat side by side with Big Herm's inside the camp's entrance.
Big Herm's Kitchen and Croaker's Spot, local black-owned businesses, say they were thrilled to be inside the camp after local vendors were not granted space inside the taxpayer-supported facility last year.
Mr. Eggleston said his food booth was not the only one that suffered. He pointed to idle employees at booths operated by four national chains, Papa John's, Famous Dave's, Buffalo Wild Wings and Johnny Rockets.
"They aren't doing much business either," he said.
Mr. Eggleston said it didn't help when he turned on the radio and heard advertisements telling fans they could bring their own food and drinks into the camp.
Croaker's Spot and Big Herm's sold fish and chicken plates priced from $8 to $12 apiece.
The two eateries each staffed their booths with about six employees the first few days of practice, anticipating big business. The number of workers had dwindled to three at each booth by the Aug. 2 Fan Appreciation Day that attracted an estimated 20,000 people and provided a small boost to business.