Black vendors hoping for bigger score at NFL camp
7/24/2015, 7:58 a.m.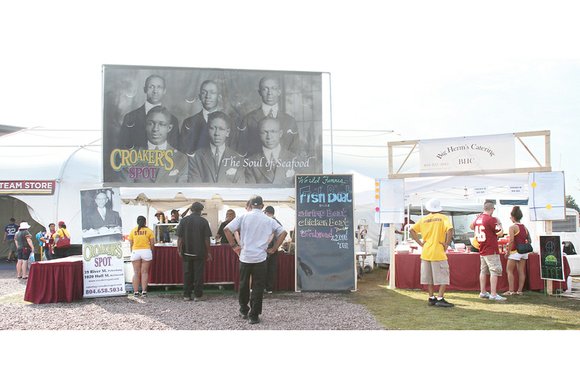 The owners of Big Herm's Kitchen and Croaker's Spot — two popular local black-owned eateries — hope fans will bring a hardier appetite to the Washington professional football team's training camp than they did to last year's.
Herman Baskerville, owner of Big Herm's Kitchen, and Neverett Eggleston Jr., owner of Croaker's Spot, have their fingers crossed that new camp hours will entice more fans to buy their tasty chicken and fish platters.
The camp is scheduled to open Thursday, July 30, and conclude Sunday, Aug. 16, at the Bon Secours-sponsored facility on West Leigh Street behind the Science Museum of Virginia.
Mr. Baskerville and Mr. Eggleston both reported lackluster sales to the Free Press during last year's camp that attracted about 165,000 fans over 17 days. They complained that early-morning and late-afternoon camp hours hurt their businesses.
Practices began about 8:30 most mornings last year, as the D.C. team tried to avoid the scathing heat, and ended well before the lunch hour. The players did not return to training until after 4 p.m. and the workouts ended before the dinner hour.
At this year's camp, the time between daily sessions has been sliced, with the D.C. team holding walk-through sessions at 10:45 a.m. and returning for practices at 3 p.m.
"I hope people will hang around between the two sessions, mingle and buy more food from us," Mr. Baskerville said.
"Nobody made money last year," he said Monday. "It was humdrum for everyone, no matter what" team officials said publicly.
Mr. Eggleston said near the end of last year's camp, "I've been doing this for 64 years, and this was the worst I've seen." He said he hopes to do better this year.
Food vendors, restaurants and fast food establishments surrounding the camp also complained that the hours provided little incentive for camp attendees to buy lunch or dinner.
Last year was the first time Big Herm's and Croaker's Spot were able to sell food inside the camp after a campaign in 2013, led by the late Free Press Editor/Publisher Raymond H. Boone, documented the discriminatory training camp deal that preserved concessions for three national white-owned chains.
Six food truck vendors reported poor sales last year and are not returning for this year's camp.
Two new vendors, Ronnie's BBQ and Strawberry Street Café, will have trucks on West Leigh Street, according to Cindy Creasy, a spokesperson with SMG Richmond which runs the facility on behalf of the Richmond Economic Development Authority and oversees the vendors. Five other vendors will operate along the walkway leading to the entrance, she said.
Washington is led by quarterback Robert Griffin III and second-year head Coach Jay Gruden. The team is slated to conduct two practice sessions with the Houston Texans and their superstar defensive end J.J. Watts, Thursday, Aug. 6, and Friday, Aug. 7.